Biocatalytic Oxygenation
Biocatalytic oxygenation is achieved through the inhalation of oxygenation biocatalysts, such as oxygen produced by plants in the process of photosynthesis. They play the role of a "super- transmitter" for oxygen in the metabolism. It is used to treat chronic asphyxiation, fatigue, nervousness, lack of memory, anorexia, bulimia, and cardiac, cardiovascular and circulatory irregularities etc.
Indeed, human beings c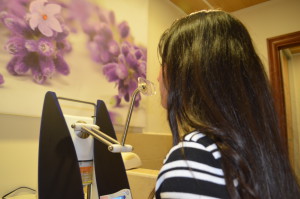 an survive several weeks without eating, several days without ingesting liquids, but only a few minutes without breathing.
Cells that are put through the process of biocatalytic oxygenation are 25% more resistant.

The air that surrounds us is composed of 21% oxygen. When we inhale, air enters our airways reaching the alveoli in our lungs. There, a gas exchange takes place and oxygen is distributed into our bloodstream.
Over 95% of the oxygen in the blood will bind to hemoglobin, one of the main proteins within red blood cells. Hemoglobin will act as a means of transport.
Whilst hemoglobin may easily capture oxygen, it only releases it to cells under determined conditions of temperature, acidity, and carbon-dioxide saturation. Should any of these internal tissue characteristics change, oxygen will not be released by hemoglobin, or cells won't be able to assimilate it correctly.
What causes it?
Pollution, free radicals, stress, internal contamination (due to tobacco, alcohol, food colorings and preservatives) age, lack of exercise, chronic illnesses, emotional stress, prolonged sun exposure, and other factors, have an effect on the level of oxygen circulating within our body and how cells use it.
A lack of oxygen in tissues can result in:
A reduction in energy production; biochemical reactions of nutrient assimilation and transformation not completing correctly; improperly eliminated residue that will accumulate and slowly intoxicate our organism.
The first to be affected will be the brain and the rest of the nervous system, as they consume the most oxygen. As a result, alarm signals begin to resound: chronic fatigue, nervousness, lack of memory and soon every function in the body is affected and diminished.
CELL OXYGENATION IS ESSENTIAL TO PROVIDE HEALTH, WELLBEING AND VITALITY TO OUR BODY
To sum up:

Biocatalytic oxygenation helps cells assimilate oxygen more easily, due to a specific and extremely reactive catalyst. This is what makes it more effective than other similar methods that can cause hyper-oxygenation, which is hardly useful and on most occasions, damaging.

It does not have the usual inconveniences found in traditional oxygenation, and can be applied even when the latter is not advised.
IT HAS NO COUNTER-INDICATIONS, SHOWS NO TOXICITY AND IS NOT ADDICTIVE